Here are a few mangle boards from my personal collection that are for sale or trade. For more information, please write to me at This email address is being protected from spambots. You need JavaScript enabled to view it.
Unless otherwise stated, all my mangle boards are in their original condition, with the original handle and original paint. It was not uncommon for a handle to break during use, and it was then replaced by a new handle, whose wood species, carving and painting differed from the old one. Many mangle boards were also repainted when they were no longer in use, to make them more decorative. What interests me about mangle boards is the combination of useful and pleasant, function and aesthetics. A mangle board without marks of use reminds me of a poorly designed tool or a poorly chosen gift.
1 - Denmark, 1806, 55 x 16 cm. Nice mangle board decorated with a hunting scene depicting a deer chased by two dogs. There are many flowers, as well as several hearts. The legs of the horse are weakened by a crack. The mangle board, relatively small, has been varnished.
$800.00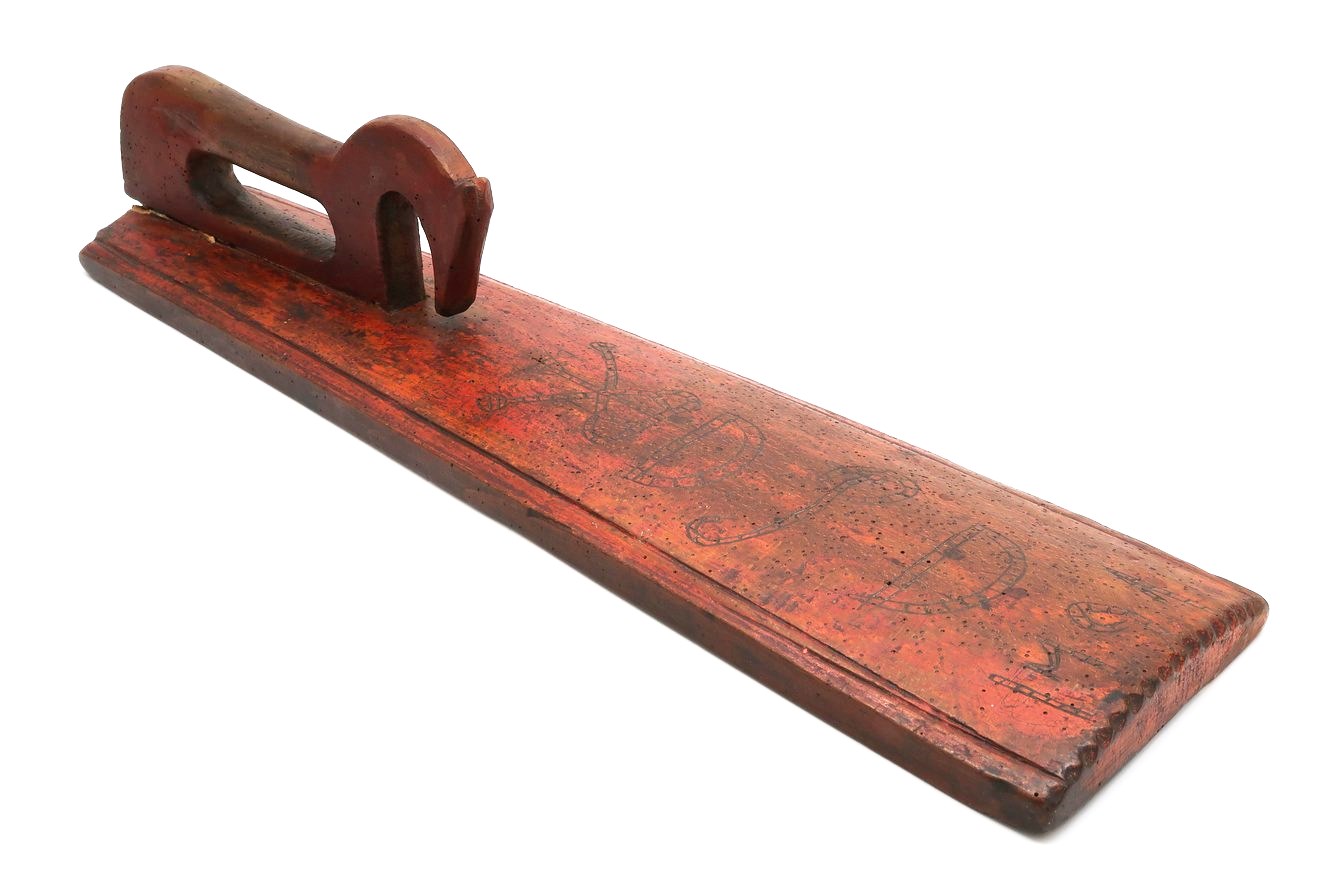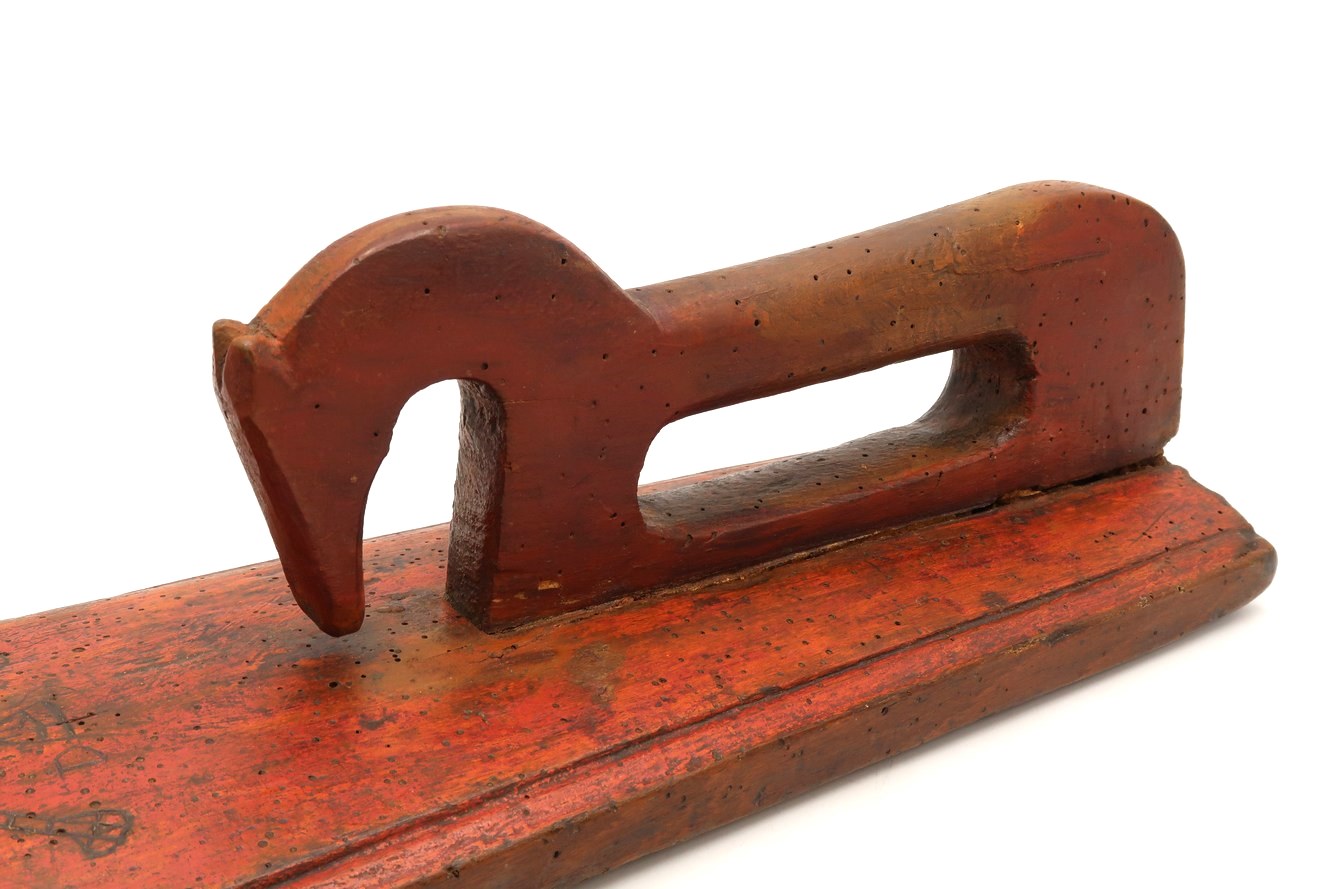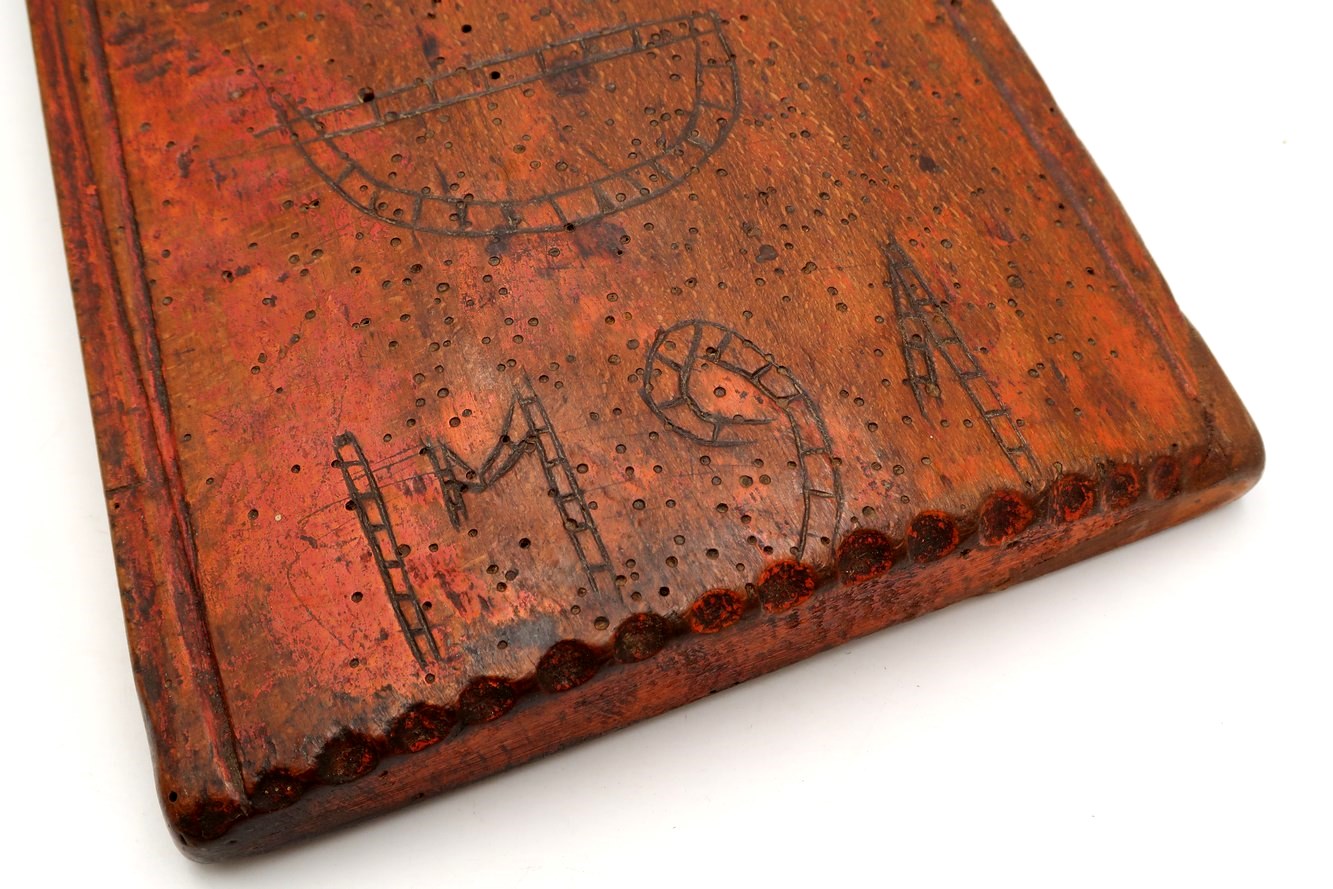 2 - Denmark, around 1800, 65 x 14 cm. The wood used is naturally bicolored, and shows a myriad of lighter lines and dots, with a beautiful aesthetic effect. The mangle board is richly carved with geometric motifs, including a triangle (rare) with a heart inside. The horse is naturalistic, with a head with prominent eyes and a long mane covering both flanks.
$850.00
3 - Sweden, 1752, 75 x 11 cm. Beautiful old mangle board, carved with a profusion of geometrical and vegetal motifs. A rare detail, the plant has many fruits, which is probably a reference to the fecundity of the future wife. The handle is special, carved as if one had to put the fingers in the notches.
$625.00
6 - Netherlands, circa 1720, 77 x 12 cm. Superb mangle board with its turned wooden roller. The mangle board is decorated with many varied and finely carved geometrical motifs, as well as a splendid pyramid of rosettes at the top. The roller is very thin, with delicately carved ends. One of the rosettes of the pyramid has been broken and glued back together.
Price on request
8 - Norway, 1883, 83 x 10 cm. Beautiful mangle board with an elegant, almost aerodynamic shape. The handle is almost centered, and the board is curved. It holds well in the hand, is perfectly balanced and must have been very efficient to use. The geometrical patterns are finely carved and the handle is decorated with small aesthetic details.
$400.00
9 - Sweden, circa 1750, 88 x 11 cm. Antique mangle board with a very long and tapered handle, and unique patterns of drops. It was formerly repainted in blue and then used.
$170.00
10 - Sweden, 1715, 83 x 10 cm. Beautiful very old mangle board, with a handle in the shape of a bicorn hat and many unusual geometrical patterns, very finely engraved. The mangle board has been used so much that the fingers have dug four grooves inside the handle.
$750.00
11 - Germany, 1797, 71 x 13 cm. Massive mangle board, decorated with several trees of life and geometrical motifs. The large circle in the center of the mangle board is made of three repeating letters: AVA, certainly the first name of the beloved woman. Varnished.
$250.00
12 - Norway, 1755, 75 x 11 cm. This mangle board has been used a lot and has been decorated with floral motifs and two hearts. The handle has some breaks and has been glued back together.
$200.00
13 - Norway, circa 1780, 73 x 13 cm. The mangle board is covered with various geometric motifs as well as a couple in front of a church with a horse. The man holds a long pipe and the woman a glass. The handle has some breaks and has been glued back.
$315.00
14 - Sweden, 1873, 38 x 13 cm. Nice and colorful washing paddle, with its original paint. It is decorated with a large heart on which two birds are standing, as well as various floral motifs. The handle is delicately carved, and it is curved to make the use more efficient. A piece on the back of the handle has been previously broken off.
$375.00
15 - Denmark, 1850, 37 x 16 cm. Nice thick washing paddle with three rosettes from which three shafts start. The whole is surrounded by fine geometrical patterns.
$400.00
16 - Norway, first half of the 18th century, 64 x 13 cm. Nice old mangle board which has been used for a long time. The colors are original. The baroque handle in the shape of a coiled spiral is rare.
$975.00

17 - Mangle board from Denmark, dated 1818, 60 x 14 cm. The handle is a horse with two heads, and there is a beautiful wind star on the board. Deep marks of use. The board has been infested with worms, which have caused some small breaks. It has been treated with insecticide.
18 - Long mangle board from Sweden, circa 1750, 81 x 11 cm. Thick mangle board, made of heavy wood. It bears deep traces of use. The legs of the horse have been broken and repaired a while ago with two wrought iron nails.
$375.00
19 - Majestic mangle board from Norway, dated 1817. Nice variation on the rosette pattern, which are all different. The horse is massive, it is not a stallion but a draft horse. The sculptor has meticulously reproduced the mane in a unique way. Nice patina of use. 80 x 12 cm (large format). The horse's legs have been formerly broken.
$1,200.00
20 - Mangle board from Germany, 18th century. The carved decorations along the board and handle, one end of which is broken and missing, are typical of northern Germany. 61 x 13 cm.
$55.00
To see sold mangle boards, it's here: http://mangleboard.com/index.php/sold-mangle-boards.html